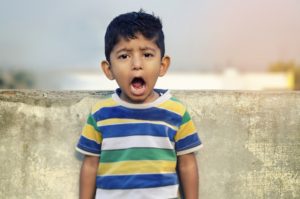 What's it like to adopt an older boy? Sindhu adopted her son when he was 7. We spoke to her about her experience, her best advice for people thinking about adoption and the support available.
Can you tell us a little about your family and what inspired to you to adopt?
We're from India originally, and we'd always wanted to adopt but it's uncommon there unless you're unable to have a child naturally. As we have two biological children and with busy day-to-day life and moving to the UK, the time was just never quite right.
When our girls were a bit older, they started saying that if we wanted to adopt, we should do it now as they wanted a chance to spend some time with their new sibling. So, that was it, we decided to go for it.
Can you tell us a bit about your adoption journey?
We came across an ad from a local adoption agency and decided we would sign up. We attended events, workshops and meetings to learn more about the process in the UK.
We originally wanted to adopt a baby but then a social worker told us that older children are much more difficult to find homes for, and we realised that age didn't really matter to us – we just wanted a child.
What has it been like to adopt an older child?
To be honest, I think it can sometimes be easier to adopt an older child. I know there is a belief that if you adopt a smaller child then it's easier, but I don't think that's always true. When a child is a bit older, they have a better understanding of what they've been through. It's easier for them to understand why they are where they are and to explain things to them as well.
For us, structure and having a routine has been key. Having rules that every member of the family has to follow, shows them that this is their safe place and that they are truly part of the family. I think this is easier for an older child to understand.
As with any parent, we've stumbled and made mistakes, but we always learn from those mistakes and then try to do better. We're not perfect parents and adoptive parents aren't expected to be either. We're all human and we all make mistakes, but you just have to make sure you always learn from it.
There are currently more boys waiting for adoption than girls, can you tell us what it's like adopting a boy and why you chose to adopt a son?
It's funny because in India, it's the complete opposite. Every woman wants a son, so it is very hard to adopt a boy in India. Because we already had two girls, we went in thinking we would adopt another girl but then we found out boys wait longer for adoption in the UK and almost immediately decided that we would adopt a boy. At the end of the day, they are all children and gender did not matter to us, we just wanted to give a child a loving home.  
We adopted a boy who had been in foster care for almost a year. We were made aware he had some physical issues; he was missing a foot and had a condition that meant his fingers were shorter. My husband and I said to each other, "does it really matter?" and of course,  it doesn't. If it had been one of our girls who had been in an accident and lost a foot, would we no longer want them? We wouldn't, so it wasn't a concern for us.
When he first came home with us, it was a big change for him, but he bonded with us all quickly. I think the familiar Indian smells and food did make it easier for him to settle. He's a brilliant and resilient kid, he's so smart and he gets along with everyone. He is our baby boy, and it has just been the most amazing journey.
Did you need / get any post-adoption support?
When he first came home with us, we had a social worker and a psychologist that came and did reports and checks as well as helping us with any issues. They helped us make sure he settled in school and when our youngest daughter struggled to accept that she was no longer the baby of the house.
To this day, we have all their email addresses and numbers and if we need anything, we know we can call or email them. It is like a support for life, we know it will always be there if we need it.
Even though we had biological children of our own, that support was still essential for us because there were still so many things we did not know, and we'd have been lost without it.
What do you wish you would have known before starting the process?
We were surprised at how thorough the process was but we also understand the reason for that. It's in the best interest of everyone involved that it takes time because ultimately the agency and social workers have to make sure the child is going to a safe place.
What advice would you give to someone who has just adopted or is thinking about adoption?
Just go for it and don't give up. It can be a tiring process but it's also a very rewarding one. Love is something we'll have forever; we just need to share it. There are so many children out there who just need a little bit of that love. Adopting a child really is the most wonderful feeling, and it has without a doubt been the best decision of our lives.
How has adoption changed your life / what has adoption brought to your life?
The feeling can never be expressed, it's just so beautiful. We feel a sense of satisfaction and relief to share what we have with a little boy who deserves all of the love in the world. You know that you have created that happiness for another person and it's the most amazing thing.
If adoption is something you have considered, but want to learn more, please contact us for an informal discussion. We'll support you every step of the way and help to create your golden moments of becoming a family.
You can get in touch by phone 0300 30 32 505 or email adoptionenquiries@carmarthenshire.gov.uk