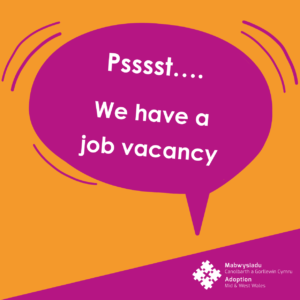 Adoption Support Worker
(Fixed Term contract up to 31/03/2022 due to grant funding)
Regional Post – Location Negotiable
24 hours per week
£22,183* – £25,991* (Grade F) *pro rata
Closing Date: 16/11/2021
This is an opportunity to join a well-performing , vibrant regional adoption service to play a leading role in developing support services for adoptive families in the region.
The post includes working with colleagues as well as families affected by adoption focusing on reviewing adoption support and contact plans to ensure they are in line with the child's needs. The adoption service uses a trauma-informed approach. There will be opportunities to undertake relevant training in order to develop the necessary skills and knowledge.
The post is grant funded, however, the funding is likely to continue after 31/03/2022.
This is a regional post but the base will be negotiated dependent on where you live and the need to provide services across the region.
Conversational Welsh is required to accomplish this post. Support can be provided on appointment to reach this level.
For an informal discussion please contact Frances Lewis 07733 102311.
A Disclosure and Barring Service (DBS) check will be requested for this post.
As part of the Council's Policy and Procedure it is now a requirement that employees must register with the DBS Update Service for which there is an annual subscription fee of £13 borne by the individual. The Authority will pay for the initial DBS check.